AV Programming Associates
An updated web presence with featured projects and a focus on the company's history and extensive experience.
Client Feedback
"Matt Smith has handled nearly all of AVPA's web technology needs since 2004. He created the past 3 generations of our public website and handles all of our maintenance and SEO. Matt has also worked on several of our marketing campaigns including targeted mailings, e-mail marketing, customer rewards programs, and trade shows."
Matthew Grisafe -- Owner and President Read more...
Services
Web Design & Development
Strategic Message Development
Copywriting
Search Engine Optimization (SEO)
Blog Management
User Experience (UX)
Press Release and Blog Article Authoring
Client Profile
AV Programming Associates, Inc. is a Crestron Authorized Independent Programming (CAIP) company. Recognized as one of the best in the nation, AVPA has years of experience in the professional AV industry and has completed nearly 1,000 projects.
Let's talk about your project!
You need a website and internet marketing that works. We can help.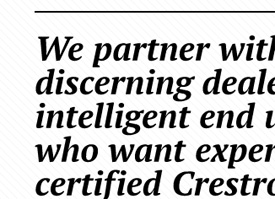 We created a completely new website to help AVPA commemorate their 10th anniversary. In fact, this is the fourth generation website we've built for them. The site includes a featured projects section with micro-case studies, a streamlined presentation of the company's background, and an expanded explanation of their vast industry experience. The site also includes a news feed and blog.
Unlike most of their competitors, AVPA has delivered programming in all professional AV environments and vertical markets. The new site showcases the breadth of the company's abilities and the laundry list of projects they've completed since starting in 2001.
One unique element of the site is the bold messaging found on each page. We crafted single sentence messages that tell the complete story. Each page contains just one headline, but if you browse through the site and read nothing but the headlines, you'll know everything you need to.