Custom Vehicle Wraps for Carlsbad, CA Companies
Vehicle wrap advertising is a great way to bring your company's brand to a new and ever-changing audience. Whether you have a car, truck, van or trailer, we can design a look that is completely custom for your vehicle and reflects your Carlsbad company's look and feel. There are options for almost any marketing budget, ranging from full custom vehicle wraps that cover the entire vehicle or fleet of vehicles, to focused vehicle signage on a small section of a car or truck.
Our vehicle wrap installers use high quality vinyl that is durable and offers UV protection to your vehicle. Unlike magnetic signage, our vehicle vinyl wraps will not damage the surface of your vehicle.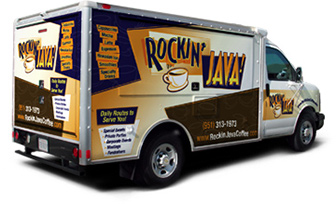 Full Vehicle Wraps
A full vehicle wrap covers the entire surface of your company vehicle, giving you the most space for advertising. Your vehicle will effectively be turned into a mobile billboard, constantly reaching new and potential customers throughout Carlsbad. With a full custom vehicle wrap, you can even change the color of the vehicle to coordinate with your company logo. While the vinyl vehicle wrap is on, the paint underneath will be completely protected with our UV resistant vinyl.
Partial Vehicle Wraps
When you choose a partial vehicle wrap, our design team will produce an eye-catching design for your company vehicle that only covers a portion of the vehicle, such as the tailgate of a truck or the doors of a car. This is a great way to gain exposure for your company's brand or message on the streets of Carlsbad, without the cost of a full vehicle wrap. Partial vehicle wraps are a popular choice for companies with large fleets of vehicles that need a consistent look.
Vehicle Signage
The most cost-effective form of vinyl vehicle graphics we offer is focused vehicle signage, or spot graphics. Spot graphics are a great alternative to magnetic signage because they won't damage the painted surface of your vehicle. The vinyl can be safely removed and replaced at any time, making them a good option for temporary messaging, such as event advertising. However, they are also a long-lasting way to display your company's logo or other graphics.
Ask about fleet pricing / multi-vehicle pricing for vinyl wraps and signage.
Benefits of Vinyl Vehicle Wraps
Rolling billboards advertise everywhere you go
Cost effective advertising that lasts
Vinyl won't scratch or damage vehicle's paint
Customers can easily identify company vehicles
Why choose Modmacro to design my vehicle wraps?
We're your one-stop solution for high quality vehicle wraps. We handle everything including the custom design, coordination and installation. We'll communicate everything to the installers and set your appointment. And our installers can come to you!
Boutique design experience. 20 years design experience from a full service graphic design studio specializing in vehicle wraps.
Contact Us!
Contact Modmacro today to discuss custom designed vehicle wraps to advertise your Carlsbad business or promote a special event. Leverage your vehicles to gain exposure and increase brand recognition, whether it's one or two cars or your entire fleet.
Common Questions About Vehicle Wraps
Does it damage the car's paint when
the vinyl wrap is removed?
No. Vinyl vehicle wraps can be removed at any time without damage to the original paint. While they are on the vehicle, they offer UV protection.
How long does it typically take to
install vinyl vehicle wraps?
The process of turning your vehicle into a rolling billboard that will advertise your Carlsbad business takes a few weeks. We'll start by meeting with you to discuss the type of vehicle wrap you want and the look and feel it will have. Our designers will present you with concepts and, once they are approved, will send the digital files to our vehicle wrap installers to complete the process.
How long do vinyl vehicle wraps typically last?
Environmental and storage conditions vary, but typical vehicle wraps that use high quality vinyl will last 3-5 years, making them a great, long-lasting investment in your Carlsbad business. Our vinyl wraps require no special treatment. They can be washed and waxed as you would a painted vehicle.