Custom Vehicle Wraps, Vehicle Signage and Fleet Graphics
Create a visual presence for your company. Turn your vehicle into a rolling billboard to gain brand recognition and advertise your business. Vinyl vehicle wraps provide cost effective advertising that lasts. We'll create a custom design that tells your story, fits your vehicle, and matches your brand perfectly. The design can be classy, fun, sophisticated or bold. Whatever presents your company or event the best. Unlike magnetic signage, vinyl will not scratch or damage your vehicle's paint and body.
Now is a great time to include vehicle wraps in your overall marketing strategy. Newer technologies and materials provide long lasting advertising that actually protects the vehicles surface while promoting your business or event.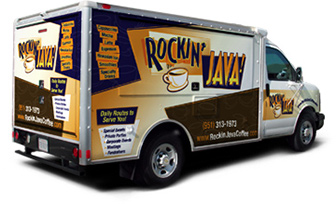 Full Vehicle Wraps
Full wraps provide complete coverage and turn your entire vehicle into the canvas. With a full wrap, we can design a multi-sided message that gets your message out and presents your brand with the most impact. The graphics and message can be different on the front, back and sides. Or if you're just looking to change the color of your car we can install a solid color wrap. The vinyl provides a protective layer over the original paint. It's UV resistant and stands up to washing. Then the vinyl wrap can be removed later without damage to the paint and body.
Partial Vehicle Wraps
Partial wraps are ideal when a full wrap is not desired. If you're looking to get your message out but have a smaller budget a partial wrap may be the solution. With partial vehicle wraps you'll still be able to promote your organization or event. Partial wraps are also a great option for larger fleets, creating a consistent look without the expense of several full wraps. Partial wraps also work well if you're interested in using a specific area of your vehicles, like the sides of a panel van.
Vehicle Signage
If you're looking to advertise on your vehicle(s) but don't have the budget for full or partial wraps then you should consider focused vehicle signage, also called spot graphics. Spot graphics can take the form of smaller sections, stylized lettering, or your logo. Our vehicle signage uses the same high quality vinyl that's used for the wraps. Unlike magnetic signage, the vinyl will not scratch or damage the vehicle's paint surface.
Ask about fleet pricing / multi-vehicle pricing for vinyl wraps and signage.
Benefits of Vinyl Vehicle Wraps
Rolling billboards advertise everywhere you go
Cost effective advertising that lasts
Vinyl won't scratch or damage vehicle's paint
Customers can easily identify company vehicles
Why choose Modmacro to design my vehicle wraps?
We're your one-stop solution for high quality vehicle wraps. We handle everything including the custom design, coordination and installation. We'll communicate everything to the installers and set your appointment. And our installers can come to you!
Boutique design experience. 20 years design experience from a full service graphic design studio specializing in vehicle wraps.
Common Questions About Vehicle Wraps
Does it damage the car's paint when
the vinyl wrap is removed?
No. Vinyl wraps actually provide a protective layer for your cars' paint and body. The vinyl is durable, UV resistant and able to stand up against car washing. But they are easy to remove as well. When you decide to remove the wrap it will not damage or scratch the paint.
How long does it typically take to
install vinyl vehicle wraps?
We'll work with you to create a custom design specifically for your vehicle(s) and your company. Once the design is complete we'll send the digital design files to the installers and communicate the requirements. Then we'll coordinate the installation and get everything setup. We can even have the installers come to your business. The entire process from initial design consultation to completion can be as short as a few weeks.
How long do vinyl vehicle wraps typically last?
Given the Southern California, vinyl vehicle wraps typically last at least a few years. We use the highest quality 3M products and you can expect to get 3-5 years durability depending on environmental conditions. The vinyl is UV resistant and you can wash and wax your car just like normal. You can remove or replace the wrap at any time, but you'll get good use out of it, making it a smart investment.