Press Release Writing and Distribution Services
We put your message on the wires and in front of the right publications and media outlets. You get massive exposure.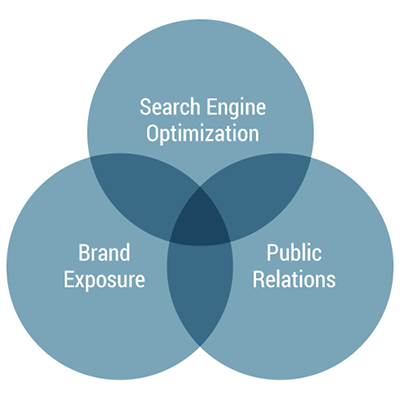 Small Businesses Benefit from Our Press Releases
Our approach to press release writing and distribution is a balance of public relations, brand exposure and SEO. We only leverage press release distribution services that meet each of these criteria.
Aside from the immediate exposure that quality press releases provide, there are also long-term benefits.
We include optimized links to your site that add even more value as they age.


We've partnered with the nation's top wire services to offer premium press releases that get submitted directly to hundreds of major news outlets. As such, we can get your story into sources like the San Diego UT, Press Enterprise, LA Daily News, Boston Globe, Google News, Yahoo News, Miami Herald, etc. This alone provides an opportunity for people to see your name and learn more about your products or services. But it also puts your company in front of additional news outlets, magazines and trade publications who may then choose to cover your story or contact you for additional press coverage.


Press releases are great at building credibility as prospective customers research your company and compare you with the competition.


Premium Press Release Distribution Options
We've also got premium and ultra-premium distribution options including wire services like the Associated Press (AP) and top-tier publications like the New York Times and The Washington Post.
SEO Press Release Writing Services
SEO press release writing has become an integral part of our approach to small business marketing. Our press release writing and distribution services provide massive exposure for your company while building valuable backlinks to your website. You'll get exposure and traffic in addition to increasing the Google reputation of your website. We'll handle everything from beginning to end including the SEO research.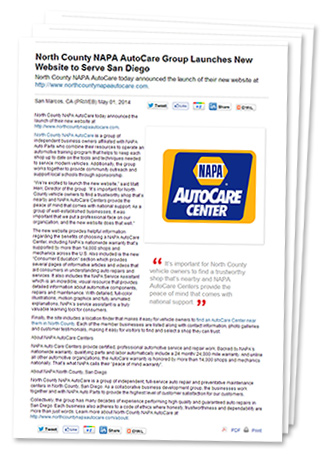 What Kind of Exposure Can I Expect?
The performance of each press release is unique and depends on the topic, company type, industry, location and more. However, we've yet to find a small business that didn't benefit from our press release services.
Here are a few examples of Press Release Performance...
Company: NAPA AutoCare Business Development Group
Title: North County NAPA AutoCare Group Launches New Website to Serve San Diego
Performance: 283 Pickups on local, regional and national outlets, news sources and trade publications
Company: BM Windows
Title: BM Windows in San Diego Receives the Anlin Window Systems Top Performer Award
Performance: 278 Pickups on local, regional and national outlets, news sources and trade publications
Company: Ms Sparky Electric
Title: San Diego Electrician Ms. Sparky Featured in National Business Publication
Performance: 272 Pickups on local, regional and national outlets, news sources and trade publications
FAQs // Press Release Writing and Distribution
How Do Press Release Distribution and Wire Services Work?
If you aren't familiar with how wire services work, they are paid to accept news submissions. However, they are not obligated to actually publish the press release on the wire. For this reason, it's important to partner with a marketing firm who maintains a very high rate of success in getting client's content published. We're proud to say that we continue to keep a 100% success rate! Every single press release we've ever written and submitted to any of the services we use has been approved and published.
Who Writes the Press Releases?
For most clients, we handle everything from beginning to end including topic selection, writing, editing, formatting and distribution. However, if you'd like to write the first draft and have us edit, optimize, format and distribute the release that's fine too. We'll take the time to understand your business, perform the SEO research and develop the press release.
Are Press Releases Done Individually or as Part of an Overall Plan?
Gaining exposure in news outlets contributes greatly to the overall Google strategy ultimately aimed at improving search rankings and increasing website traffic both for local and national brands. We typically work press releases into a 12 month marketing schedule along with other components like SEO, advertising, social media marketing and more. Press releases are one tactic in a well-rounded marketing strategy.
What's News-worthy enough to Justify Writing a Press Release?
Wire services do not judge the newsworthiness of the press release we submit to them. They only judge the writing quality and appropriateness for mass distribution. We follow specific industry standards, best practices and press release formatting that ensures success. We work with each client to identify appropriate news release topics based on the business type, location and industry.
A few common press release topics include:
New website launch
Industry award
Charity involvement
Business rebrand
New product or service announcement
Event announcement
Company milestone
New hire