Fallbrook Website and Blog Design -
Fallbrook Local Locksmith
Categories:
Web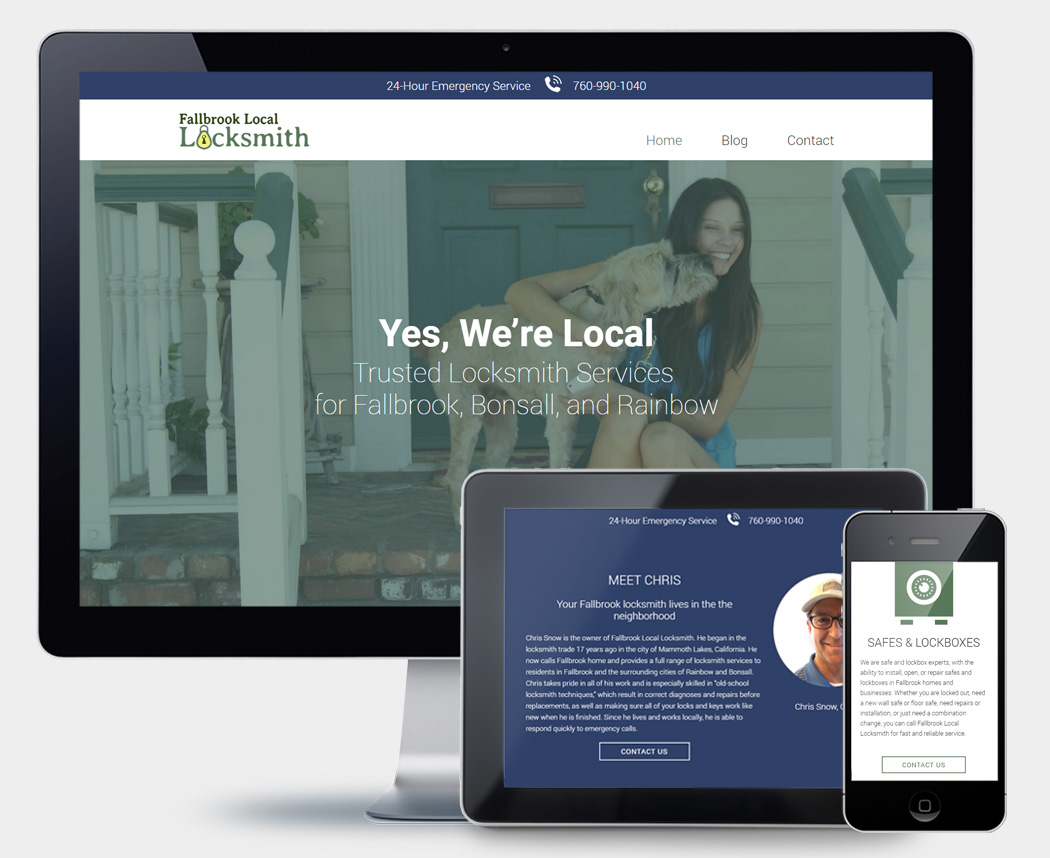 Fallbrook Local Locksmith provides a full range of locksmith services to the Fallbrook, Bonsall, and Rainbow areas of North County, San Diego. They service residential, business, and automotive customers, as well as offer safe and lockbox locksmith services. The company is truly "local" and they are trusted to respond promptly and professionally — even offering customers 24-hour emergency service. Owner Chris Snow, has worked in the locksmith industry for over 17 years and is especially skilled in "old-school" locksmith techniques which result in correct diagnoses and repairs before replacements, as well as making sure all of your locks and keys work like new when he is finished.
Fallbrook Local Locksmith was utilizing an outdated website that not only needed a serious face lift, but did not support the company's desire for top Google searches. The previous website also failed to adequately communicate the factors that make Fallbrook Local Locksmith the clear choice for locals.
We built Fallbrook Local Locksmith an entirely new website on the WordPress platform with a purposeful emphasis on spotlighting the company's critical differentiating factor, their locality. All website elements from design, to copywriting, to SEO were carefully crafted to emphasize the fact that Fallbrook Local Locksmith, is truly "local" to the area, unlike most of their competition. Our message was that not only does the company provide all types locksmith services to the Fallbrook area, but they live there and are part of the community. They are able to respond to customer emergencies quickly and professionally, making them a trusted partner in times of need. The new site takes advantage of the powerful SEO foundation we've developed for WordPress, and provides a solid foundation for ongoing digital marketing and SEO work to drive targeted traffic. The new website is fully mobile-responsive and allows customers in need of emergency services the ability to easily view contact information from any mobile device.

"Thank you for such awesome, fast service. We really appreciate you! - Kathleen Snow, Owner