A blog-centric website to promote the business, provide downloadable resources and inspire with fresh blog content //
Stonepile Studios
Categories:
Brand & Identity
Web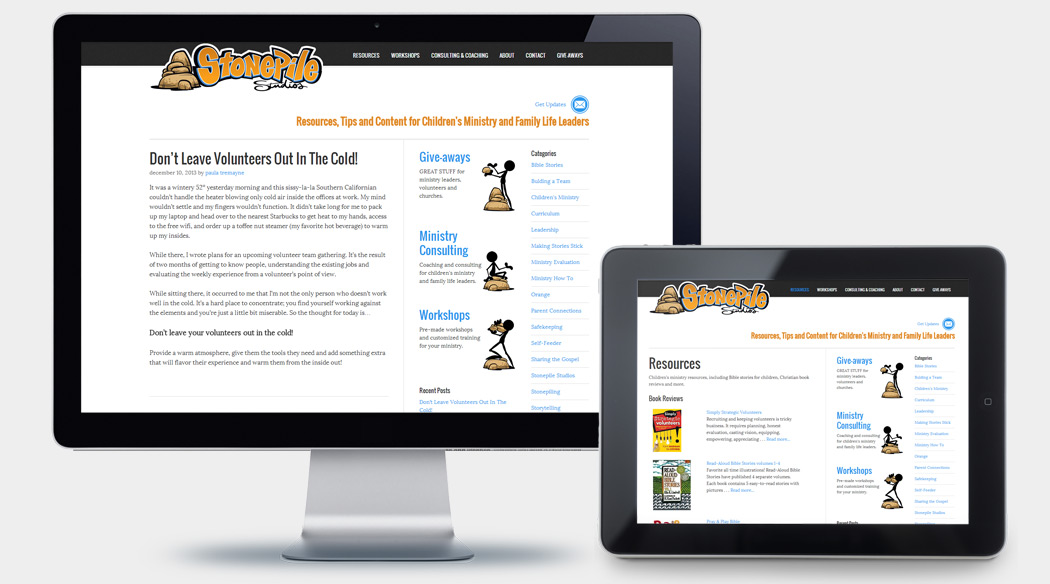 The Client
Stonepile Studios is the new venture of Paula Tremayne. Stonepile is Paula's vehicle to share and deliver her children's ministry and family life directorship experience with Christian churches both locally in Temecula and across the U.S.
Their Needs
With her children's ministry and family life directorship experience, Stonepile owner Paula uses her site to publish useful resources, Christian book reviews, downloadable ministry tools and give-aways. She also promotes her paid services which include customized training and workshops and ministry evaluation and coaching.
Client Feedback // Happy clients matter most.
"Entering the world of websites and blogging can be intimidating, but not when you have Matt and his team behind you! They took me from ground zero to AMAZING! They not only created the site, but explained the options I had and provided me with clear, well-defined explanations regarding each potential outcome. They patiently answered my questions and provided the latitude I needed to insert my own personality, expression and style. If your business wants to compete in the ever-changing world on the net, you need a relationship with Matt and the staff at Modmacro. -- Paula Tremayne, Owner
More client testimonials...

Our Solution
Stonepile Studios' new website was built with fresh content in mind. The home page facilitates getting visitors to recent content quickly by featuring several recent blog posts. And the full-featured WordPress-based blog is seamlessly integrated into the site. No matter what page you're on, readers can quickly access content by category, chronology and tags. With a focus on ease-of-publishing and minimal maintenance, we delivered a customized WordPress site, including dashboard improvements and custom-built plugins, that Paula can manage with outside help.
Services Overview:
Search Engine Optimization (SEO)
Strategic Message Development
Technology Consulting
User Experience (UX) Design
Web Content Copyediting
WordPress Security
WordPress Widget & Plugin Development