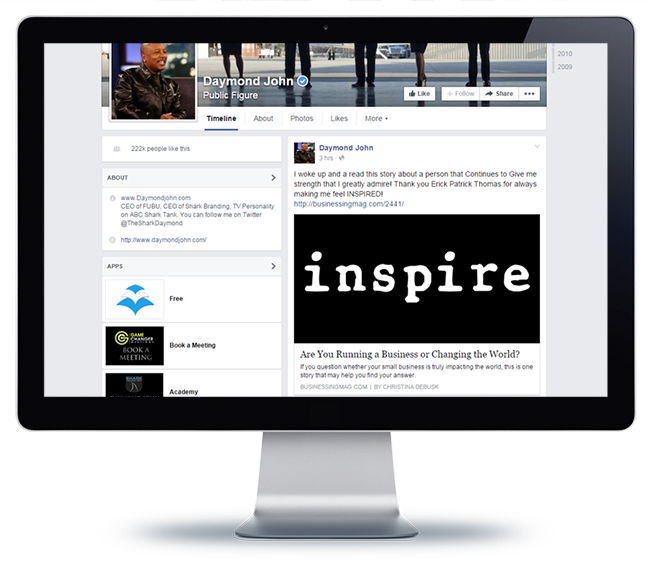 I was pleasantly surprised to start my Saturday by finding that Daymond John (yes, that Daymond John) has been reading Businessing Magazine. I am absolutely addicted to watching Shark Tank. I wish there was a new episode every single day. Seriously. So, it was pretty cool to learn that Daymond was reading our digital magazine this morning.
Last week we posted an article, written by Christina DeBusk, that featured Eric P. Thomas, the victim of a random shooting, who has turned into an inspiring entrepreneur. The article, titled "Are You Running a Business or Changing the World?" had already made a splash and has been bouncing around in social media. But now that Daymond has shared the article with his 220,000+ Facebook fans, it's been read by a lot more people.
Here's what Daymond posted on his Facebook page… "I woke up and read this story about a person that continues to give me strength that I greatly admire! Thank you Eric Patrick Thomas for always making me feel INSPIRED!"
Update
After posting on Facebook, Daymond later tweeted about the article to his 350k+ followers. Wondering what the page view stats look like when a shark shares something? Here's an Analytics trend that tells the story…

Now What?
Read the article on Businessing Magazine.
Follow Daymond on Facebook.
Check out Eric's company on his website.