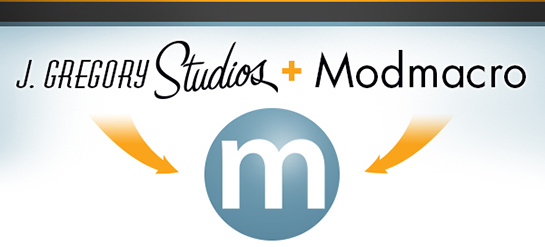 We're very excited to announce that J. Gregory Studios has merged their team and talent with Modmacro. As an award-winning design agency J. Gregory brings years of experience and adds a new set of talents to Modmacro. Jerry Lund, former Creative Principal of J. Gregory Studios, now our Creative Director, has specialized in providing small businesses and non-profits with high-end branding design and identity solutions. From logo design and product packaging to vehicle wraps, trade show materials and apparel, Jerry has a broad range of graphic design and print media specialties.
As we transition J. Gregory clients to Modmacro it's important to note that nothing will change regarding the quality of work and the people performing it. Everything you've come to expect from J. Gregory will remain intact. But now clients will have access to more complete marketing solutions as our digital marketing, public relations and web design services are at your fingertips as well.
For existing Modmacro clients, the same holds true. You can expect to continue receiving the same attention to detail in web design projects and the internet marketing campaigns we develop and execute. Only now, we have access to design talent like never before. So you can also expect our projects to look even better.
If you have any questions about this merger, how it may affect your projects, or the new services that are now available please contact us. We'd love to discuss our plans with you.
We published the official press release yesterday, and the story has already been picked up in more than 100 news outlets nationwide including San Diego Union Tribune, LA Daily News, The Daily Record (New Jersey), The News Tribune (Tacoma, WA), The Miami Herald, The Boston Globe, Digital Media Wire, and Press Enterprise (Riverside, Ca).
You can view the official press release here.