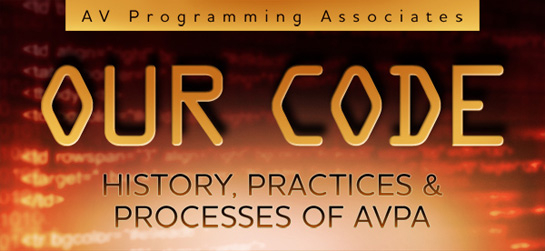 After several months of planning and writing, we're nearing completion of our collaborative project with AVPA to publish their first book. Entitled "Our Code: History, Practices and Processes of AVPA" the book is a collection of stories and lessons learned, accompanied by business "best practices". With 13 years of successful small business ownership, AVPA's President Matthew Grisafe offers interesting insights that apply equally well to small business owners of all types.
We're helping AVPA launch the new book and celebrate their accomplishments by hosting a casual gathering of their friends, family, customers and industry partners.
In January we announced the release date for "Our Code" will be March 31st. The party is scheduled for shortly thereafter. The location is being finalized, but it's a good bet that we'll partner with a brewery in North County to host the event.
To learn more about AV Programming Associates and the soon-to-be-released book, please visit http://www.avprogramming.com/.
We've sent an invite to each person with the location and details. If you're a friend of AVPA and you didn't receive an invite, please let me know! To help us plan ahead, please leave a comment below letting us know that you might make it. And please note if you plan to bring someone along. Both will help us plan accordingly.