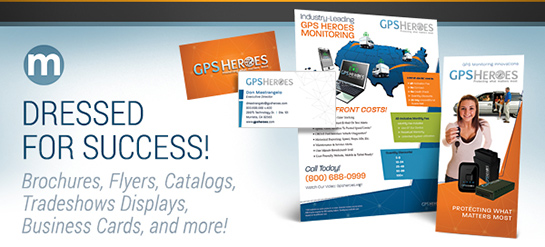 We love a good analogy that helps explain what we do and why we do it. Think about this: everyday when you get dressed for work you try not to wear one blue sock and one black sock. You don't wear dress clothes to a messy workplace. Your garments "work" together and chances are, your outfit says something about your occupation. 
Is your business "dressed" as nicely as you? For a moment, think about that logo of yours. Has it slightly changed it over the years? Are the colors in your brochures consistent with your business cards, signage, or even your website? Do all your materials "work" together to portray a consistent brand? If you're like a lot of small business owners, you take the brochures to a small shop over here, your website to those guys over there, and signage to yet another company. That's a lot of different vendors with different ideas, who aren't necessarily concerned with your overall brand.
At Modmacro we partner with small businesses to improve brand consistency. The key is, we do it all under one roof! We're experts at print design and love to make your small business stand out. Whether you have corporate colors or not, old brochures or no logo at all, we custom-tailor a plan to fit your needs. From logos, business cards and marketing brochures, to custom vehicle wraps, tradeshow materials and more. We provide complete marketing solutions to grow your business and make you look great in the process!