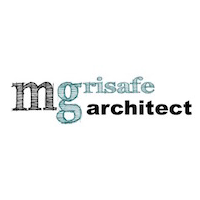 The book project by Modmacro CEO Matt Smith is progressing rapidly! In our latest press release, we announced a scheduled release date of June 1st, and the support of a third sponsor, M. Grisafe Architects. We are so happy and grateful that Mark Grisafe, owner of M. Grisafe Architects, has agreed to partner with us on this project. It means that all of our sponsorship positions are now filled.
M. Grisafe Architects is a full-service commercial and residential architecture firm in Long Beach, California, offering commercial building planning and tenant improvements, new home design and custom remodels, landscape design and interior design. With every project, they strive to exceed their clients' design needs and help protect the finished projects from known risks and costly challenges. Learn more about M. Grisafe Architects at http://mgrisafearchitect.com/.
We are grateful to our small business partners, M. Grisafe Architects, BM Windows, and freelance writer and author Christina DeBusk, for helping to make this book possible. We are looking forward to its upcoming release date so we can share it with all of you. Visit the Kill the Noise website for more information, or subscribe to our mailing list and receive periodic updates.