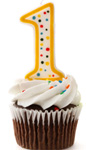 Celebrating 1 Year in Business
Thanks to our great Clients, Partners, Colleagues, Family and Friends, we're celebrating the completion of our first year in business. We've built a lot of great relationships already, and we're looking forward to strengthening them even further. Thanks for helping to make Modmacro a success!
Congratulations on your first anniversary. It's been a pleasure working with you and I'm looking forward to many collaborations in the following years.
Leslie Siebenthal
Guest Contributor, myMurrieta.com
Hi Matt, Congratulations on the first of what is sure to many years of providing outstanding web solutions. I'm so glad I've had the opportunity to work with you.
Bob Santy
Sunridge Community Church
Matt, having worked with you for 7 years, I knew that when you started Modmacro that you would be successful. I look forward to many years working together on Peeek.org and you nudging me and supporting AV Programming. Congrats my friend!!
Matt Grisafe
AV Programming Associates, Inc.
Happy first anniversary! That is a great accomplishment, especially in this day and age when it is so tough to succeed with a small business. It just shows your integrity and strong work ethic shining thru! I know there will be many more years of success and service to your customers.
Nancy Smith
Contributor, myMurrieta.com
Congratulations on your first anniversary! It has been (and continues to be) great to work with you. Looking forward to more anniversaries!
Melissa Armentrout
Skycrest Inc.
Congratulations! Best of luck to you as you continue to grow your business.
Mitch Goodz
Good Sounds
Matt, I'm really happy to help you celebrate your 1st year. It's always the most difficult, but I knew you would be successful because you are a hard worker and passionate about what you do.
Craig Ulak
Vemma Encinitas
Congrats on your one year milestone! Looking forward to working with you for many more years.
Gina Sansivero
Project Green AV
Congratulations Modmacro! Wishing you many more successful years!
Jane
Jane Katherine Designs
Your professionalism, wealth of knowledge and quality of support are exceptional! I look forward to working together for many years to come.
Steve Greenblatt
Control Concepts
Congratulations Modmacro on reaching a very exciting milestone. With proven extensive knowledge and experience combined with exceptional pride in attention to detail, we look forward to continue working with Modmacro for many more years to come.
Amy Smith
Intuit Research, LLC
Hi Matt, congrats on the first of many milestones to come. When we were introduced I never would have known your company was so new. That says a lot about your bright future. We have enjoyed working with you and look forward to growing our partnership over the next year.
Steve Parker
Parker Communications
Matt Smith - I'm Glad to have worked with you. I learned much during our time together, and know you will have much success with running your business. Good job!
Casey Barmakian
Barmak Systems
Happy first year! Congratulations on a wonderful accomplishment! We are so glad we found you, and have enjoyed working with you! May there be many more years to come.
Tamara Fleischmann
Redhawk Engineering, Inc.
A year of hard work has paid off! Congratulations on reaching your one year anniversary. I am sure there will be many more years of great work ahead.
Heather Wible
Congratulations on your anniversary! We have collaborated together on many projects and you have brought passion and dedication to the team. This passion and dedication are the elements that resulted in undeniable success. I have enjoyed partnering with you on past projects and look forward to future collaborations.
Jack Ward
Quatro Composites
Congratulations Matt on your first year of business. Working with you on a daily basis I know how detailed and dedicated you are. These are the ingredients for success my friend and you have them.
Anonymous
This is surely a binary 1 with the cake being the 0 - Yes? Looking forward to creating tangible technology with you soon.
Susan Taylor
5D-Visions, LLC
Happy Anniversary! Year one and many more to come. Congratulations!
Susi Wong
HhcHerbs.com