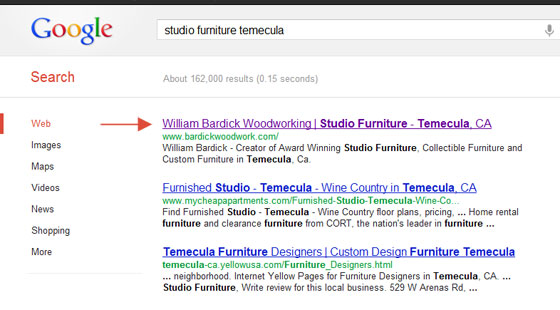 Top Google rankings are an important factor for small businesses who want to compete. William Bardick is an amazing craftsman and an award-winning furniture artisan. But few people have had the opportunity to see his work. We created a gallery website for him that displays several pieces with multiple photos for each. Now people can find Bill's site, see his incredible projects and commission him to make their own.
We know that 97% of consumers research products and services online before making a purchase. And we know that 67% of all searches on done using Google.
So Google rankings are paramount. But with so many SEO and internet marketing firms out there it's hard to know who to choose and if they can truly deliver what they promise. Furthermore, it's difficult to find a company you can trust that's willing to work with a limited budget.
We got BardickWoodwork.com ranked to the #1 position in Google for multiple relevant, local searches. We can do the same for you.
Remember, a great website just isn't enough. You have to be found in Google in order for people to visit your website, learn about your business and contact you. Converting visitors to customers starts with being found in Google.
Is your website ranking well in Google, Yahoo and Bing? If there's some room for improvement let's talk. We'll develop a strategy specifically for your needs and within a budget you can afford. Contact us today to discuss SEO and internet marketing options for your business.