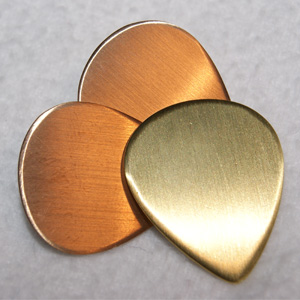 Zenfire Picks is the creator of brass and copper guitar picks. Each pick is handmade without the use of powered or automated machinery and is hand cut and filed to finish specifications. Zenfire picks are truly the highest quality metal picks available and each comes with a "Craftsman's Guarantee". The company offers a total of seven picks, each available in Phosphor Bronze (Copper Alloy) or Hard "Bell" Brass. In addition, Zenfire picks is one of only a few guitar pick manufacturers in the United States. Most guitar pick makers offer lower quality products being mass produced overseas, most often in China.
Zenfire has received more industry notoriety of late. The company was recently featured in the Copper Development Association Inc.'s periodical, "Copper in the Arts Magazine". The September 2012 edition had a write-up on Zenfire and featured a product photo taken by MODMACRO. You can read the whole article at http://www.copper.org/consumers/arts/2012/september/Zenfire_Picks.html.
Zenfire Picks has been a MODMACRO client since the summer of 2010. As a purely online business, it's important that Zenfire have a professional web presence and be found in Google search. We partnered with Zenfire to develop their e-commerce website and provide branding, SEO and internet marketing services.
Although Zenfire is a small operation based in Temecula, CA, their products are shipped all over the county. So it's important that Zenfire has strong Google rankings for national searches as well as local ones. Zenfire's website can be found on the first page of Google for several relevant, national searches, including
copper guitar picks
brass guitar picks
handmade guitar picks
guitar picks made in usa
To learn more about Zenfire picks, view their complete product line, and purchase their picks, please visit http://www.zenfirepicks.com
We want to showcase your business. If you're interested, send us an email including what you think would be a good topic to present – maybe something that many people don't know about you, your business or your industry.