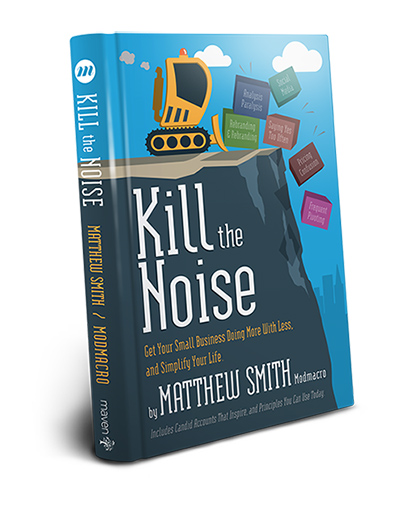 As we mentioned in our last blog post, Modmacro CEO Matt Smith is currently writing a new book on small business strategy that will be published soon. Kill the Noise will show you, from Matt's experiences in business, how to get your small business doing more with less, and simplify your life. We wanted to offer two opportunities for our friends and clients to be involved with this project in its early stages.
First, your small business or non-profit can become a sponsor of the book. As such, your name, logo, company description and web address will be listed at the beginning of the book in both its print and digital formats. Your organization will be promoted along with the book in various national news outlets, on the web and in social media. This opportunity is available to only three sponsors, so if this is something that interests you, please contact us soon!
Second, we are looking for individuals to provide early reviews of the book. As a reviewer, you will be given a free advance copy of the book and your review may be used on the book itself or for the book's publicity. We would love to have some of our loyal friends or clients be among the reviewers of Kill the Noise.
For more information on the book, or on these opportunities, visit the dedicated website for the book, http://kill-the-noise.com/. There you can also sign up to receive periodic updates on the book and be the first to know when the book will be available for purchase.